SOLD
Big and small cola tin for Chupa Chups lolly's
SKU:

BT-2336-19
Two Chupa Chups tins, 90s.
Nice metal collection tins to store lolly's from the wellknown Chupa Chups brand. These tins have the shape of a cola tin can and have a push-in closing lid.
Text: Chupa Chups cola mix. Cola - Cherry Cola - Lemon Cola.
Big tin
Height: 24 cm.

Diameter: 16 cm.
Small tin
Height: 15 cm.

Diameter: 9 cm.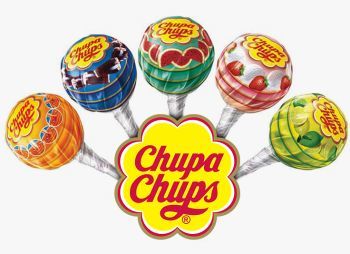 Chupa Chups is a popular Spanish brand of lollipop and other confectionery sold in over 150 countries around the world. The brand was founded in 1958 by Enric Bernat, and is currently owned by the Italian-Dutch multinational corporation Perfetti Van Melle. The name of the brand comes from the Spanish verb chupar, meaning "to suck".
The Chupa Chups logo was designed in 1969 by the artist Salvador Dalí. Its first marketing campaign was the logo with the slogan "És rodó i dura molt, Chupa Chups", which translates from Catalan as "It's round and long-lasting". Later, celebrities like Madonna were hired to advertise. In the 1980s, owing to falling birth rates,[citation needed] an anti-smoking slogan "Smoke Chupa Chups" was tried to attract further adult consumers. The company's current anti-smoking slogan is "Stop smoking, start sucking", with their packages parodying cigarette pack designs. Some packages parody the mandatory black and white warning labels of the European Union with the notice "Sucking does not kill."