Set of square tins for "daalders" cocoa by Blooker
SKU:

2400
Set of square tins for "daalders" cocoa by Blooker.
Cocoa tins by Blooker
Manufacturing date: 1900/1950

Munufacturer

: Dutch United tin factory
Description
Vintage set of two tins by Blooker cocoa. High square shape with a separate lid. The lid is rounded on the sides. The decoration of these tins consists of a brown background, with the text 'Blooker's Cacao' on both the lids and embossed at the bottom.
Condition
Both tins are in a good vintage condition with traces of use and age-related traces of wear.
Size
Large tin
Height: 19.5 cm.

Length: 10.5 cm.

Width: 10.5 cm.
Small tin
Height: 10.2 cm.

length: 5.2 cm.

Width: 5.2 cm.
Blooker is the name of a former cocoa factory that was founded in Amsterdam in 1824 and existed until 1962.
In the mill De Vriendschap at the Oetgenspad 133 where paints and tobacco used to be ground, Jurriaan Blooker started together with Jan Barendsz, on April 3, 1798 for 2200 guilders with his tobacco factory and his snuff-tobacco factory. Twelve years after his death, his sons Johannes (deceased 1858) and Cornelis (deceased 1836) started their chocolate factory in 1813.
After a few expansions and a large fire, the 'Stoom-Chocolaadfabriek' moved in 1886 to a new location in Amsterdam, on the Weesperzijde 194 and the Omval , where the Leeuwenburg building, the former headquarters of the former Postbank , now stands.
As early as 1905 , the factory was largely mechanized, as was the case with Ringers and Van Houten , but that could not be said of the many smaller workshops where chocolate was also produced.
In its existence, the company has taken various names, including Zeeland chocolate factory and in a later period, for 43 years, the name International Cocoa Factories and finally Blooker's Cocoa and Chocolate Factories.
"Half past eleven Blooker time" was the slogan used by the cocoa and chocolate manufacturer Blooker for a long time. The slogan "Even Van Houten and his wife drink Blooker's cocoa" was banned by the courts.
In the early 50 's the company published a booklet as a customer gift, with the children's rhyme "The tower clock stood still". This rhyme also underlined the motto "half past eleven hours".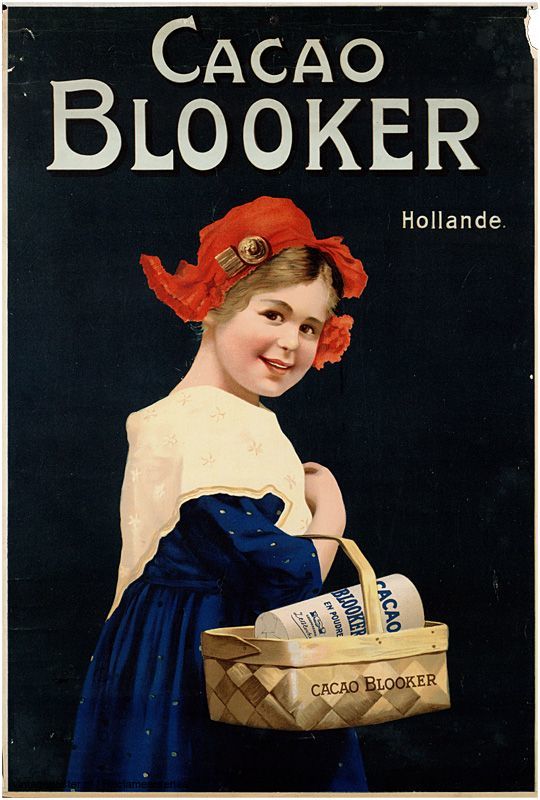 The company was closed by lack of successors in 1962 and taken over by the originally Amsterdam and later Bussum cocoa factory Bensdorp. This cocoa manufacturer, too, has been unable to maintain its independence due to competition from abroad and has finally reached Swiss (Belgian) hands. However, there is a street in Amsterdam called Johannes Blooker, the Johannes Blookerweg. The Blooker brand is now again owned by a Dutch company. The chocolate processing company Rademaker is now responsible for the brand. Blooker Daalders cocoa (anno 1814) is still for sale in packages of 250 grams, but is made by Rademaker BV.
Some translations come from an automated system and may contain errors.
Country of origin
Holland
Kind of object
Cocoa tin
Theme
Cocoa
Category
Vintage tins
Color
Brown
Manufacturer
Nederlands Vereenigde blikfabriek
Brand
Blooker
Material
Metal
Particularities
Set of two
Era
1900 - 1950
Quality
Good vintage condition
Height
19,50 cm - 10,2 cm
Lenght
10,50 cm - 5,20 cm
Width
10,50 cm - 5,20 cm
Shipping method
parcelpost with track & trace