SOLD
Vintage tin De Betuwe, Conpura prima rinse apple syrup with Flipje from Tiel
SKU:

BT-2581-19
---
Vintage tin De Betuwe, Conpura prima rinse apple syrup with Flipje from Tiel.
Manufacturer: Mij de Betuwe

Date of manufacture: Approx. 1938
---
One of the larger tins of rinse apple syrup made for Mij. de Betuwe in Tiel
Description
Round cylindrical vintage tin with a separate lid on which an image of Flipje, the fruit boss from Tiel.... The decoration of this tin consists of a dark green background with a red band in which the brand name "Me. DE BETUWE nv in white letters "
In a white label with a red frame is a red cross and the text: Conpura Prima Rinse Appelstroop. Content 850 grams.
On the bottom of the tin the text: This packaging is not suitable for long storage (Dutch).
Condition
This tin is in a vintage condition with traces of use and age-related traces of wear.
Size
Height: 8.5 cm.

Diameter: 11 cm.
---
De Betuwe
Around 1900, De Betuwe was one of the first companies to produce apple syrup in addition to jam and jelly.
Farmers from the Betuwe landed sugar beets in the autumn. These were weighed on the weighbridge on the Grote Brugse Grintweg.
The sugar beets ended up in a large storage heap after which they were cleaned in the factory. They were cut into pieces, cooked and pressed on heavy machines. The juice was filtered and thickened under vacuum.
Apples received a similar treatment.
Apple syrup was made from the concentrated sugar solution from the sugar beet and the concentrated apple juice. CONPURA appears on the cans of the apple syrup (and pear syrup). Conpura stands for: Concentrated Pure Apple Juice.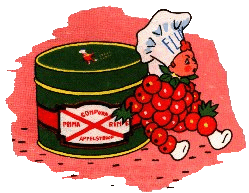 Flipje is a fictional figure who serves as a mascot, originally from the jam factory "De Betuwe" and nowadays the mascot of the city of Tiel. It was invented in 1935. In Tiel he is among other things honoured with a museum, a statue and comic strips on benches in them around the center of the city.

Some translations come from an automated system and may contain errors.
Country of origin
The Netherlands - Holland
Kind of object
Tin of Conpura Prima Rinse Apple Syrup - Jam tin
Theme
De Betuwe - Flipje - Tiel - Fruit boss - Conpura - Apple syrup
Category
Vintage tins
Color
Green - white - red - gold
Manufacturer
Mij de Betuwe
Brand
Conpura
Material
Tin - metal
Particularities
Loose lid
Era
Approx. 1938
Quality
Vintage with traces of use, wear and tear
Height
8,50 cm
Diameter
11,00 cm
Content
850 gram
Shipping method
Parcel post with track & trace