SOLD
Vintage THORNE's Toffee tin with image of Lady Maria Conyngham
SKU:

BT-2598-19
---
Vintage THORNE's Toffee tin with image of Lady Maria Conyngham.
Manufacturer: Thorne's Leeds England

Date of manufacture: ...
---
Description
Beautiful vintage tin box with a rectangular shape and pronounced corners. The tin has a hinged lid. The hinges concern two tabs which are enclosed in the tin box itself. The decoration of this tin consists of a cream-white background with gold and brown details. On the lid in a round medallion is a portrait painted by Thomas Lawrence and shows Lady Maria Conyngham.
The front of the tin has a lock hole. However, the key is missing. Text on the front of the tin: "Lady Maria Conyngham after Sir Thomas Lawrence P.R.A."
Side and back show ornaments in a golden and brown colour combination.
The bottom of the tin has a raised edge and the text: THORNE'S Leeds, England. The worlds Premier Toffee.
Condition
This great looking tin is in a good vintage condition with traces of use and age-related traces of wear.
Size
Height: 11 cm.

Length: 26 cm.

Width: 17 cm.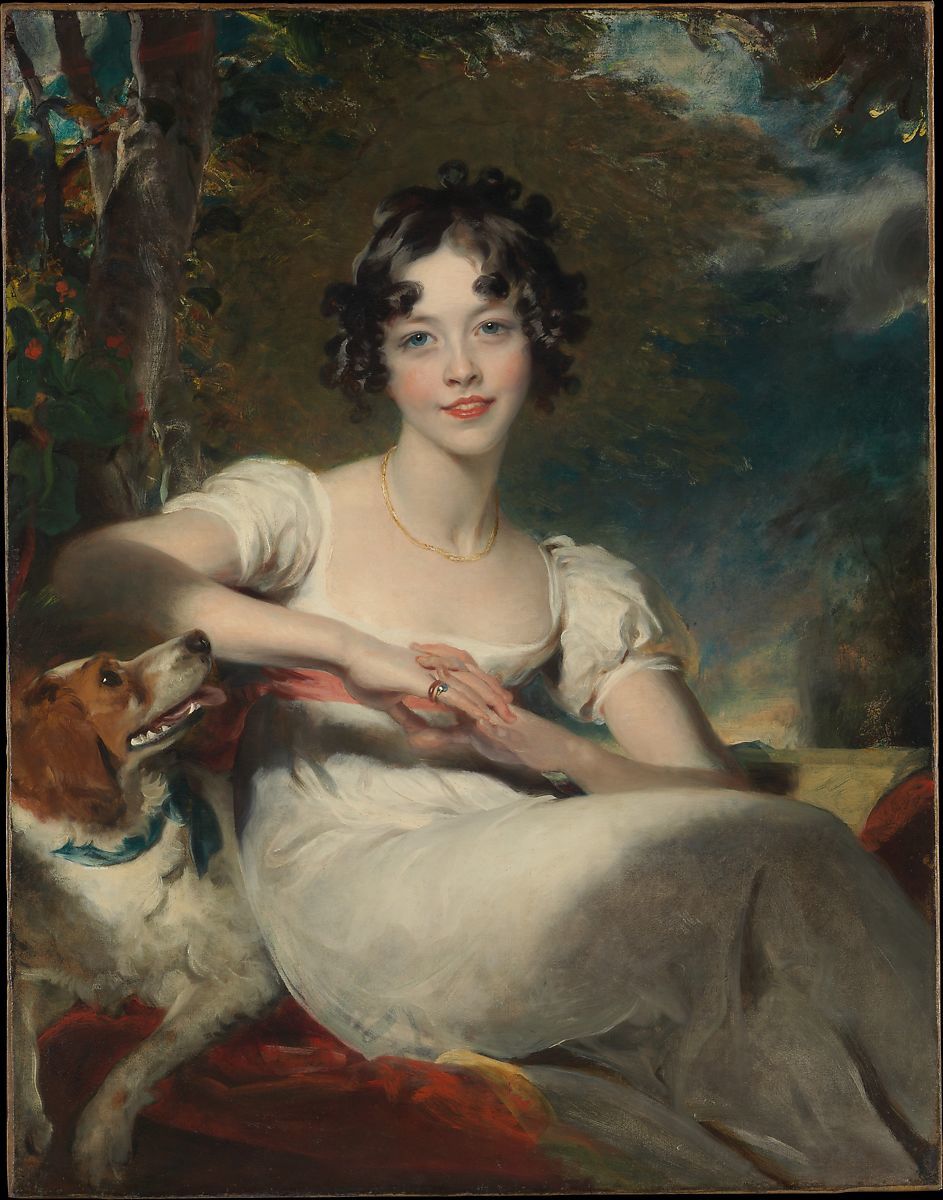 Lady Maria Conyngham (died 1843)
ca. 1824–25
Sir Thomas Lawrence
Lady Maria's father was created Marquess Conyngham in the peerage of Ireland in 1816. This was through the influence of his wife, Elizabeth, who in 1820 became the final mistress of the future King George IV of England. Husband and wife were in constant attendance at court. Between 1823 and 1826 the Marchioness and her three children sat for Sir Thomas Lawrence, the leading portraitist of the era. George IV was fond of Maria Conyngham and the present portrait hung for a time in his bedroom at one of the royal residences, St. James's Palace. The composition of the girl's portrait is elegant and the paint is applied to the canvas in broad, creamy strokes, with great assurance. However Lawrence was not greatly interested in drawing and her fingers are oddly jointed and disproportionately long.
---
Thomas Lawrence
Sir Thomas Lawrence PRA FRS (13 April 1769 – 7 January 1830) was a leading English portrait painter and the fourth president of the Royal Academy.
Lawrence was a child prodigy. He was born in Bristol and began drawing in Devizes, where his father was an innkeeper at the Bear Hotel in the Market Square. At the age of ten, having moved to Bath, he was supporting his family with his pastel portraits. At eighteen he went to London and soon established his reputation as a portrait painter in oils, receiving his first royal commission, a portrait of Queen Charlotte, in 1790. He stayed at the top of his profession until his death, aged 60, in 1830.
---
Toffee is a confection made by caramelizing sugar or molasses (creating inverted sugar) along with butter, and occasionally flour. The mixture is heated until its temperature reaches the hard crack stage of 149 to 154 °C (300 to 310 °F). While being prepared, toffee is sometimes mixed with nuts or raisins.

Some translations come from an automated system and may contain errors.
Country of origin
England
Kind of object
Toffee tin
Theme
Toffee - Horne's - Lady Maria Conyngham
Category
Vintage tins
Color
Cream - gold - brown - multi-colored
Manufacturer
Thorne's Leeds England
Brand
Thorne's
Material
Tin - metal
Particularities
Hinged lid
Height
11,00 cm
Lenght
26,00 cm
Width
17,00 cm
Shipping method
Parcel post with track & trace