Vintage Fisher Price Little People Sesame Street apartments from 1974
SKU:

SP-2705-20
---
Vintage Fisher Price Little People Sesame Street apartments from 1974.
Manufacturer: Fisher Price, East Aurora, N.Y.

Date of manufacture: 1974
---
Rare beautiful vintage Fisher Price Sesame Street playhouse!
Description
This folded and unfoldable Sesame Street toys house made by Fisher Price in 1974 consists of two parts. When folded, it forms one large apartment that can be viewed from the outside on all sides. The toy house can be folded in and out using the hinged handle on the top.
Once unfolded, we see the two apartments on the inside together with the four rooms. Between the buildings there is a green and usable chalkboard.
Sesame Street is an American educational children's television series that combines live action, sketch comedy, animation and puppetry.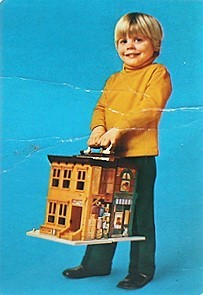 Condition
This Fisher Price Sesame street Little People toy house is still in a very good condition with, certainly for its age (1974), very small traces of use and age-related traces of wear. All stickers are still present and intact! Near mint condition!
Dimensions
Folded
Height: 28.5 cm - with handle 33 cm.

Length: 31.7 cm.

Width: 25.7 cm.
Unfolded
Height: 28.5 cm.

Length: 54.5 cm.

Width: 25.7 cm.
---
Fisher Price
In the 1960s, toy company Fisher-Price began producing its popular line of Fisher-Price Little People -- small figures with cylindrical bodies which fit into specially made vehicles and buildings. The first Little People set was a school bus, with human characters who fit inside circular holes. The original Little People figures were made of wood, with plastic vehicles and buildings; later, the figures would be made of plastic as well. The Little People toys were an instant success, and the school bus was soon followed by more sets.
Fisher-Price produced a Sesame Street line of Little People between 1974 and 1979, with two building sets and 16 characters.
The first set, "Sesame Street Apartments" (#938), was produced in 1974 and released in 1975. This toy was designed to look like the main Sesame Street set, including the 123 Sesame Street brownstone and Hooper's Store. On the other side of the brownstone section, decorations on the inside showed Ernie and Bert's apartment on the top floor, and Gordon and Susan's apartment on the first floor. The set also included Big Bird's nest and the Sesame Street signpost. Eight characters came with this set -- Gordon, Susan, Mr. Hooper, Ernie, Bert, Big Bird, Oscar the Grouch and Cookie Monster.
As a side note, this set also was the first urban environment produced for the Fisher-Price Little People.

Some translations come from an automated system and may contain errors.
Country of origin
USA - America
Kind of object
Fisher Price Little People Sesame Street apartments
Theme
Sesame Street - Fisher Price - Little People
Category
Vintage toys
Color
Multicolor
Publisher
Fisher Price Toys, East Aurora, N.Y.
Manufacturer
Fisher Price Toys
Brand
Fisher Price
Material
Plastic - paper
Particularities
Heavy quality toy house
Era
1974
Quality
Good vintage condition - near mint
Height
33,00 cm (with handle)
Lenght
54,50 cm (unfolded)
Width
25,70 cm
Shipping method
Parcel post with track & trace