Douwe Egberts Coffee, retro tin with nostalgic images
SKU:

BT-2928-20
---
Douwe Egberts Coffee, retro tin with nostalgic images.
Manufacturer: Douwe Egberts

Date of manufacture: ...
---
Description
High coffee tin suitable for a whole pack of coffee. The tin is fitted with a separate lid. The decoration of this tin consists of a red background and is decorated on each side with various nostalgic images, such as advertisements from the past.
Condition
This tin is in a good condition with normal traces of use and age-related traces of wear. Photos are part of the description.
Dimensions
Height: 20 cm.

Length: 12 cm.

Width: 9 cm.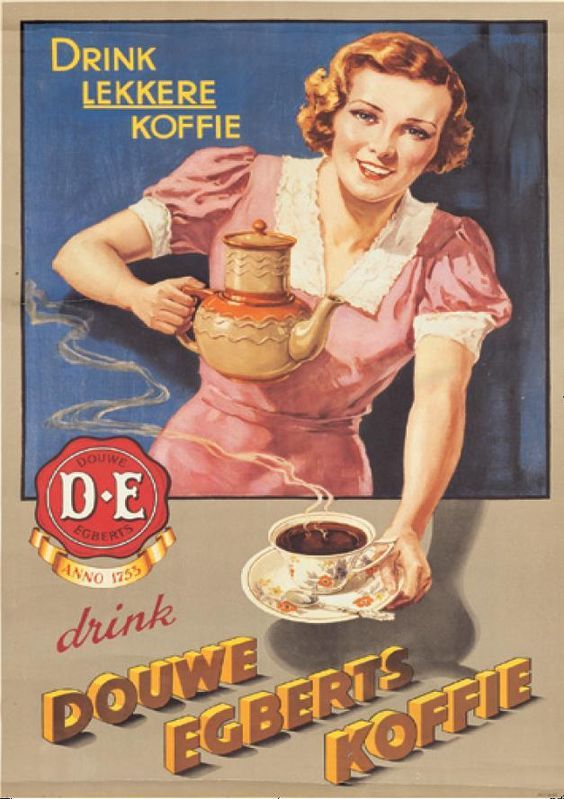 DOUWE EGBERTS (also known as D.E.)
In 1753, Egbert Douwes and his wife Akke Thysses began selling coffee, tea and tobacco from their small shop, 'De Witte O's (literally'The White Ox'), in Joure, the Netherlands. Egbert Douwes is the founder of the company which became nationally and internationally known under the name of his son Douwe Egberts, who joined the business around 1780. The latter's success can be put attributed the fact that, whilst in his small shop Egbert Douwes only sold to the local villagers, Douwe Egberts built up a (regional) reputation by also supplying shop owners elsewhere. In 1919 Douwe Egberts goes from local to national with an establishment on the Catherijnekade in Utrecht.
The original shop was called The White Ox – De Witte Os, in Dutch – but the family renamed the company Douwe Egberts as its trade in coffee and tea expanded, along with its reputation. As the business developed, its headquarters were moved to Utrecht, and in 1920, the iconic Douwe Egberts seal – now incorporated into the company's logo – was introduced.
The story began in a small village in the Netherlands in the year 1753 - around the same time that coffee houses were becoming popular places to meet to discuss the important topics of the day. Egbert Douwes opened a grocery store in Joure, selling mostly coffee, tea and tobacco. He decided, like other merchants at the time, that Joure's easy access to the waterways would allow trade to flourish, and he was right.
Coffee is a brewed drink prepared from roasted coffee beans, the seeds of berries from certain Coffea species. Once ripe, coffee berries are picked, processed, and dried. Dried coffee seeds (referred to as "beans") are roasted to varying degrees, depending on the desired flavor. Roasted beans are ground and then brewed with near-boiling water to produce the beverage known as coffee.
Coffee is darkly colored, bitter, slightly acidic and has a stimulating effect in humans, primarily due to its caffeine content. It is one of the most popular drinks in the world, and it can be prepared and presented in a variety of ways (e.g., espresso, French press, caffè latte). It is usually served hot, although iced coffee is a popular alternative.
The word "coffee" entered the English language in 1582 via the Dutch koffie, borrowed from the Ottoman Turkish kahve, borrowed in turn from the Arabic قهوة qahwah. The Arabic word qahwah was traditionally held to refer to a type of wine whose etymology is given by Arab lexicographers as deriving from the verb قَهِيَ qahiya, "to lack hunger", in reference to the drink's reputation as an appetite suppressant.
The term "coffee pot" dates from 1705.] The expression "coffee break" was first attested in 1952.

Some translations come from an automated system and may contain errors.
Country of origin
The Netherlands - Holland
Kind of object
Coffee tin - Storage container
Theme
Coffee - storage tin - nostalgia - advertisements - advertising
Category
Vintage tins
Color
Red - multi-coloured
Publisher
Douwe Egberts B.V. Joure
Manufacturer
Douwe Egberts
Brand
Douwe Egberts
Material
Tin - metal
Particularities
Decorated with nostalgic images
Era
...
Quality
Good vintage condition
Height
20,00 cm
Lenght
12,00 cm
Width
9,00 cm
Content
Suitable for one pack of coffee
Shipping method
Parcel post with track & trace