SOLD
Square Verkade biscuit tin with illustrations by Esther Aarts
SKU:

BT-3814-21
Square Verkade biscuit tin with illustrations by Esther Aarts
Manufacturer: Koninklijke Verkade

Date of manufacture 2013
---
Description
Verkade released this large square biscuit tin in 2013 with illustrations by Esther Aarts with a cosy kitchen atmosphere as the subject.
This tin for Verkade Digestive has a separate lid and has a red background with details in blue, yellow, black and red.
Text on the lid:
"And what have you all experienced today?".
Texts on the sides of the tin:
"I took a bite out of a Verkade Digestive... and then suddenly I could fly! That's how I found all kinds of new friends!
"We got a Verkade Digestive for taking part in jumping rope! the whole city jumped!"
"I found a Digestive role and didn't know who it belonged to... I brought it back to the Verkade biscuit factory... and then I was immediately allowed to become a director!"
"I gave that cute girl a Verkade Digestive... she took a bite... and then she gave me a kiss and hug!"
Condition
This tin is in good condition with normal traces of use and age-related traces of wear. Photos are part of the description.
Size
Height: 7 cm.

Length: 23.5 cm.

Width: 21.8 cm.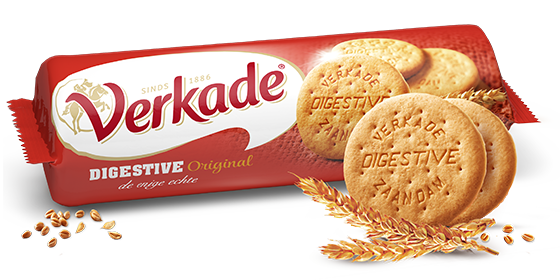 Verkade, there is hardly a more Dutch brand.
Verkade was founded on May 2, 1886. Then Ericus Gerhardus Verkade opened his steam, bread and rusk factory "De Ruyter". The name "De Ruyter" was chosen with a bow to the past; the first flour mill in West Zaandam bore that name. The products of the first hour were; bread, rusk, honey gingerbread and Langetjes, later the tea lights were added. "De Ruyter" is still recognizable in the logo of the Verkade brand. Over time, Verkade switched to making cookies and chocolate.

Some translations come from an automated system and may contain errors.
Country of origin
The Netherlands - Holland
Kind of object
Biscuit tin - cookie tin
Theme
Verkade Digestive - Verkade - storage tin - store
Decoration
Illustrations by Esther Aarts
Category
Vintage tins
Color
Red - White - Blue - Yellow
Publisher
Verkade's fabrieken Zaandam
Manufacturer
Verblifa (vereenigde blik fabrikanten)
Brand
Verkade
Material
Tin - metal - paint
Particularities
Loose lid - biscuit tin for Verkade Digestive - Illustrations by Esther Aarts
Era
2013
Quality
Is in a good condition
Height
7,00 cm
Lenght
23,50 cm
Width
21,80 cm
Shipping method
Parcel post with tarck & trace