Cylindrical yellow Verkade vintage rusk tin and half rusk with nasturtiums
SKU:

BT-3930-22
Cylindrical yellow Verkade vintage rusk tin and half rusk with nasturtiums
Manufacturer: Fa. Verkade

Design: Cees Dekker

Date: 1960 - 1980
---
Biscuit tin and half rusk from the Koninklijke Verkade Factories Zaandam
Description
Straight round tin rusk tins with a slightly convex loose closing lid. The decoration of these buses consists of a yellow background with a light yellow diamond pattern and with a green bottom edge. The bus is regularly divided in length with a few bunches of flower vines and leaves of the nasturtiums in green, red and yellow. Also a wreath of the same tendrils on the lid. The lid also has a rolled edge and the tin has a seamed longitudinal seam at the back.
The brand Verde is pressed into the bottom.
Condition
This set is in a vintage condition with traces of use and age-related traces of wear. Photos are part of the description.
Size
Rusk tin
Height: 21 cm.

Diameter: 10 cm.
Rusk tin small
Height: 16 cm.

Diameter: 10 cm.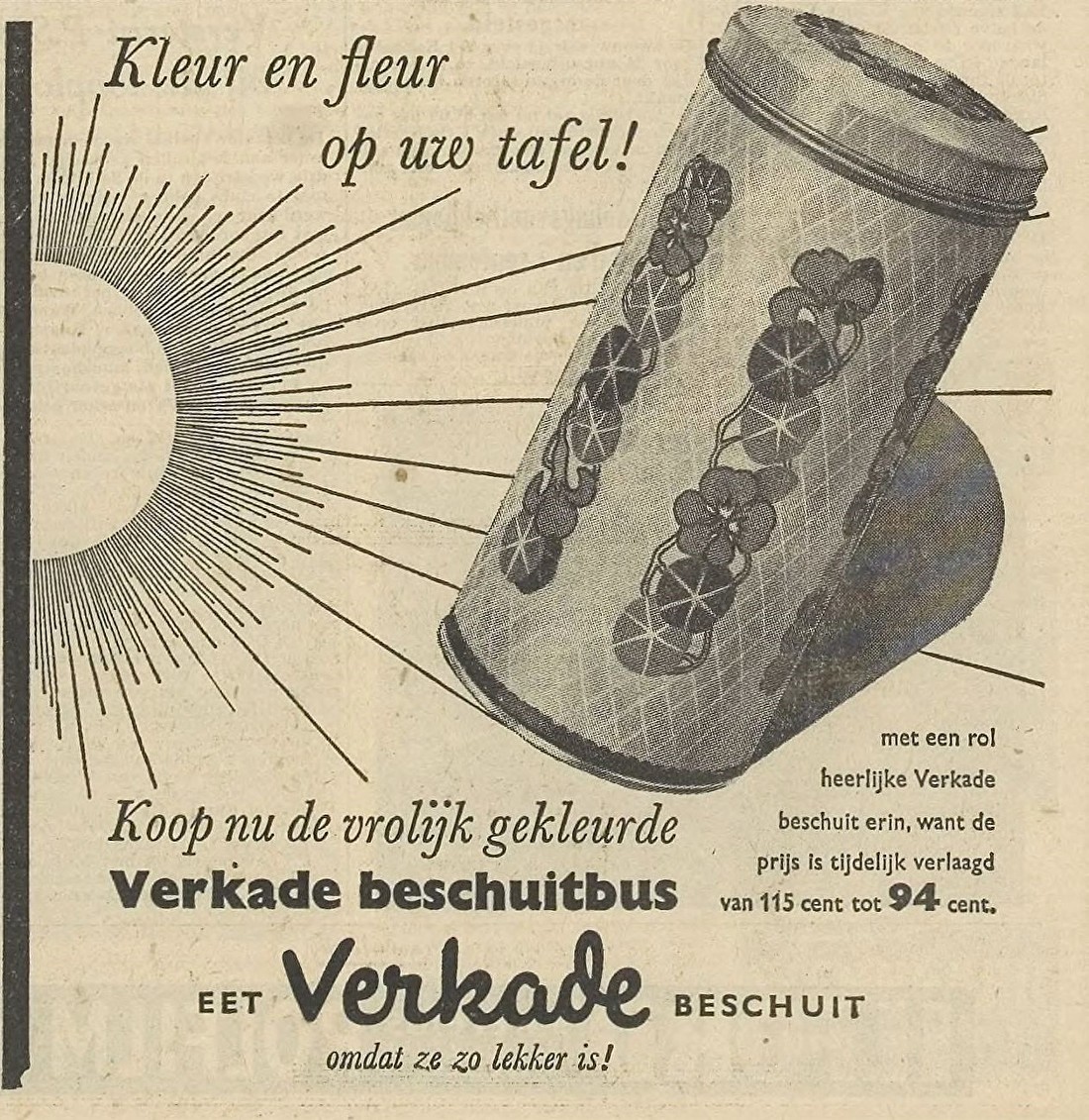 ---
Verkade, a genuine dutch brand.
Verkade was founded on May 2, 1886. Then Ericus Gerhardus Verkade opened his Steam, Bread and Rusk factory "De Ruyter". The name "De Ruyter" was chosen with a bow to the past; the first flour mill of West Zaandam carried that name. The products of the first hour were; bread, rusk, honey gingerbread and biscuits, later on, they also produced tea candles. "De Ruyter" is now still recognizable in the logo of the Verkade brand. In the course of time, Verkade switched to making cookies and chocolate.
In 1950 Verkade received the predicate, Royal.
The nasturtium (Tropaeolum majus) is an annual, creeping and sometimes climbing herbaceous plant of the family Tropaeolaceae.
The smooth, grey-green leaves are reminiscent of a coat of arms. That contributed to the naming because the botanical name Tropaeolum is derived from the Latin word "tropaeum", which indicated a tree hung with weapons as a sign of victory.
Flowers, leaves and seeds are edible and are reminiscent of horseradish with their pungent taste. The nasturtium is also counted among the spices. The leaves can be salted and the flower buds and green fruits can be marinated.

Some translations come from an automated system and may contain errors.
Country of origin
The Netherlands - Holland
Kind of object
Rusk tins made for Verkade, large and small model
Theme
Rusk - tin - product packaging - Verkade - half rusk
Decoration
Nasturtiums
Category
Vintage tins
Color
Yellow - Orange - Green - Red
Publisher
Verkade
Manufacturer
Koninklijke Verkade Zaamdam
Designer
Cees Dekker
Brand
Verkade
Material
Tin - metal - paint
Particularities
Loose lids
Era
1930 - 1960
Quality
Vintage with traces of use and wear
Height
21,00 cm - 16,00 cm
Diameter
10,00 cm
Shipping method
Parcel post with track & trace