Large yellow vintage shop or counter tin for "VERKADE'S BESCHUIT"
SKU:

BT-3937-22
Large yellow vintage shop or counter tin for "VERKADE'S BESCHUIT"
Manufacturer: N.V. Dordrechtsche Metaalwarenfabriek v/h Wed. J. Bekkers & Son

Manufacture date: 1915 - 1928
---
Description
Large vintage Verkade shop tin for rusk. This large rectangular retail tin has a slanted lid, with the original brown knob. The tin is black and yellow, with green decoration and lettering. On the sides the old logo of the Verkade factories, namely with rider-herald on horseback. The lid still closes very well.
This shopping drum has an elongated rectangular shape. The top is 1/3 closed and 2/3 sloping towards the front. This angled portion hinges and is the lid. The tin has a circular band at the bottom consisting of a drawing of green-cream rods between which an elongated black area, the top of which is rounded. The ground colour of the can is yellow. Six lanes of cream curls run across this yellow. These lanes are on all sides except the front. Both the front and the back have an identical text consisting of black letters with green contours. On all sides, sometimes different in size, the Verkade logo, a circle with text including a herald on horseback.
Although cherished today, in earlier times these looks were not always treated with the same gentleness. This shop or counter tin is a beautiful example that can be used for decoration in the living room, or better still for decoration and use in the kitchen for storing, among other things, rolls of rusk. Truly an eye-catcher and always food for a conversation with your acquaintances.
Condition
This large Verkade shop tin for rusk is, especially considering its age, still in a very neat vintage condition with normal traces of use and age-related traces of wear. There are two small screw holes on the back of this tin. The tin was probably used to hang on the wall. Photos are part of the description.
Dimensions
Height: 30 cm.

Length: 46 cm.

Width: 28 cm.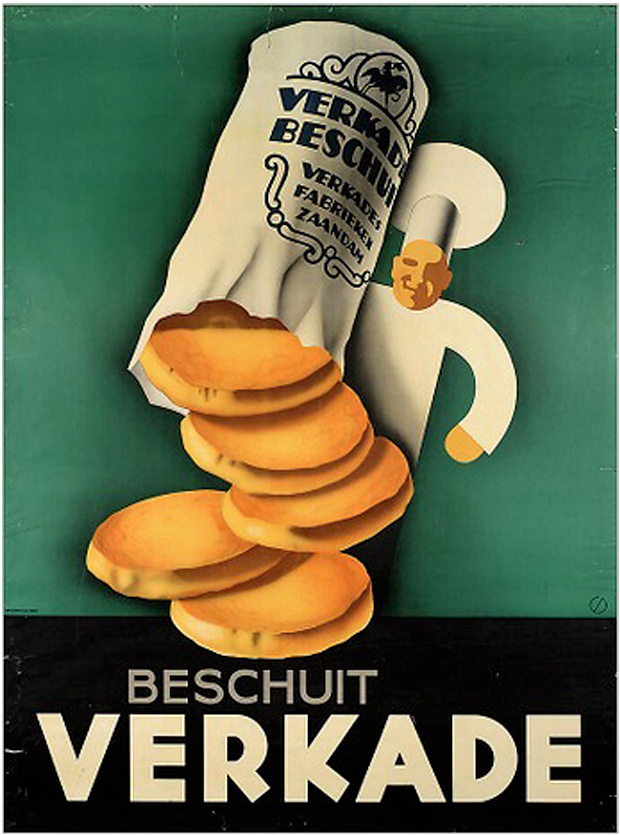 Verkade was founded on May 2, 1886. Then Ericus Gerhardus Verkade opened his steam, bread and rusk factory "De Ruyter". The name "De Ruyter" was chosen with a bow to the past; the first flour mill in West Zaandam bore that name. The products of the first hour were; bread, rusk, honey gingerbread and Langetjes, later the tea lights were added. "De Ruyter" is still recognizable in the logo of the Verkade brand. Over time, Verkade switched to making cookies and chocolate.
Verkade. The most beautiful brand in the Netherlands.
There is hardly a more Dutch brand. With the tastiest cookies and chocolate in the world.
Verkade biscuit tins are in the cupboard or on the table everywhere in the Netherlands.

Some translations come from an automated system and may contain errors.
Country of origin
The Netherlands - Holland
Kind of object
Verkade shop co0unter tin for rusk
Theme
Verkade - rusk - grocery - shop - company - bakery - packaging - advertising
Decoration
Patterns - logos - letters
Category
Vintage tins
Color
Yellow - black - green
Publisher
Verkade's fabrieken Zaandam
Manufacturer
N.V. Dordrechtsche Metaalwarenfabriek v/h Wed. J. Bekkers & Zoon
Brand
VERKADE
Material
Tin - metal - paint
Particularities
Large shop counter tin with hinged lid
Era
1915 - 1928
Quality
Good vintage condition
Height
30,00 cm
Lenght
46,00 cm
Width
28,00 cm
Shipping method
Parcel post with track & trace