Red spherical metal box, in the shape of an Edam cheese ball by J. Laming & Sons, Rotterdam
SKU:

BT-3966-22
Red spherical metal box, in the shape of an Edam cheese ball by J. Laming & Sons, Rotterdam
Manufacturer: J. Laming & Sons

Date of manufacture: Early 20th century, around 1930, perhaps older
---
Round red drum for cheese from J. Laming & Sons Rotterdam
Description
Antique tin advertising object by J. Laming & Sons Rotterdam, made in the first half of the last century. The object is a true showpiece. J. Lamings & Sons was the name of a cheese merchant who started exporting Edam and Gouda cheese to America. The rare object is still in a fairly good condition and has only some minor paint damage and some minor traces of oxidation. No dents! The bulb still closes well.
This beautiful round box, composed of two hemispheres, is in a good general condition, especially considering its age. Minor lack of paint and varnish, some oxidation points are visible in the photos. No dents.
Approximate date: early 20th century, around 1930, possibly older.
The Laming company went bankrupt shortly after the First World War. This tin box can therefore be more than a hundred years old, a real piece of antiquity from Rotterdam. An object that catches the eye with its design and its bright colours.
Text on the tin: Dutch Product, Made from partly skimmed milk. Dutch Cheese crème de la crème. Can only be obtained from J. Lamings & Sons Rotterdam.
Exporters of Edam and Gouda Cheese. Flamingo fire.
Condition
This tin drum is in good vintage condition with normal traces of use and age-related traces of wear. Photos are part of the description.
Dimensions
Height: 13.5 cm.

Diameter: 17 cm.
---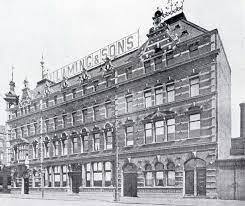 'HOLSTKAMP BUILDING'. Every Rotterdammer knows the beautiful building with the bright red letters on the Noordereiland.
The Noordereiland is a late 19th-century artificial island, created after the construction of the Koningshaven. In 1888, the young local architect, Jacobus Pieter Stok, received a factory order from the British company Laming & Sons.
Stok realized a large four-storey building on the Maaskade with vaulted roofs and a facade richly decorated with cornices, white limestone bands and bronze and stone ornaments. The exterior is quite common for its architectural style, revealing nothing of its internal purpose: a modern margarine and cheese factory.
Competition in the margarine industry was fierce and when Laming went bankrupt in 1919, distillery Hulstkamp & Son & Molijn moved into the building. During World War II, the building was occupied by the Germans in an attempt to take over the city. Aside from bullet holes, the building miraculously survived heavy fighting and subsequent city bombing.

Some translations come from an automated system and may contain errors
Country of origin
The Netherlands - Holland
Kind of object
Tin drum for cheese - product packaging
Theme
Edam and Gouda cheese - tin ball - ball - J. Laming & Sons
Decoration
Spherical
Category
Vintage tins
Color
Red - Multicolour
Publisher
J. Laming & Sons
Manufacturer
J. Laming & Sons, Rotterdam
Brand
J. Laming & Sons
Material
Tin - metal - paint
Particularities
Spherical shape
Era
Around 1930 or earlier
Quality
Vintage with traces of use and wear
Height
13,00 cm
Width
17,00 cm
Shipping method
Parcel post with track & trace