SOLD
Vintage tin with rounded corners for storing WASA crackers
SKU:

BT-3974-22
Vintage tin with rounded corners for storing WASA crackers
Manufacturer: Thomassen & Drijver Verblifa

Manufacture date: 1985 - 1999
---
For the collector. Collect them all!
Description
Rectangular tin with rounded corners for crackers from WASA. The tin is equipped with a high-loose lid. The decoration of this tin consists of a green background with three ears of corn tied together with a pink bow on the corners. On the short sides a view of a cornfield. On the front is an image of a boy in a round medallion who is going to eat a Wasa cracker, while on the back he has already half-eaten it. In the background is also a view of a corn field.
The lid is decorated with a polder landscape and the brand name WASA. The high edges of the lid are finished with pink flowers and yellow bows. Text in German on the front and back: "Ein knäcke am Morgen vertreibt Hunger und Sorgen" and "Ein knäcke am Abend ist köstlich und labend". Gold colored interior.
Condition
This original Wasa tin is in a vintage condition with some traces of use. The lid is slightly discoloured by the sun. Neat on the inside. Photos are part of the description.
Size
Height: 12.5 cm.

Length: 19 cm.

Width: 8 cm.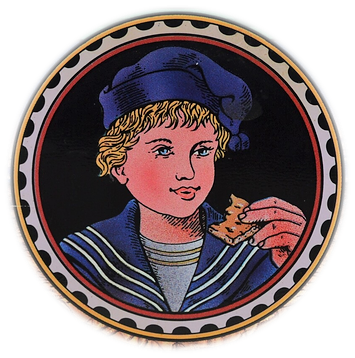 ---
WASA
The Swedish company Wasabröd is the largest producer of crusty bread in the Scandinavian style in the world (Swedish: crispbread). The Wasabröd company has existed since 1919.
Wasa has been the largest crispbread bakery worldwide since 1919. The products are sold in 40 different countries from Scandinavia to the United States of America. In 1999 Wasa became part of the Barilla Group, along with many other bakery brands such as Mulino Bianco, Harry's and Pavesi.
The Wasa bakeries are located in Filipstad Sweden and in Celle Germany. From these two locations, we bake crispbread and other products for a large number of countries around the world.
The largest markets for the Wasa brand outside of Sweden are the other Scandinavian countries and Germany, closely followed by Poland, the Netherlands, France and the United States of America.

The Wasa brand was originally that of a certain product, Vasaknäcke, with an image of King Gustavus Vasa. The company has both a royal crown and the peculiar heraldic cargo, the robe (Swedish: vase), which gave its name to the Vasa dynasty, used in its marketing. (The use of the letter W instead of V is an archaism in Swedish; it is not uncommon in marketing but does not affect pronunciation.)
Wasabröd produces a wide range of crispy bread. The original crusty bread is made from rye, but their different products include sesame, wheat and other grains. Just like matzo, Wasa is known for its long service life.
The company has the status of purveyor to the Royal Court of Sweden.

Some translations come from an automated system and may contain errors
Country of origin
Netherlands - Holland - for the German market
Kind of object
Storage tin for WASA crackers
Theme
WASA - crackers - Crispbread - storage - storage - product packaging
Decoration
Boys head in a round medallion - ears of corn - corn field
Category
Vintage tins
Color
Green - pink - yellow - blue - multicolour
Publisher
Wasabröd - Thomassen & Drijver Verblifa
Manufacturer
WASA - C.M. Metaalverpakkingen, Holland
Brand
WASA
Material
Tin - metal - paint
Particularities
Loose cover with high edge
Era
1985 - 1999
Quality
Vintage with traces of use
Height
12,50 cm
Lenght
19,00 cm
Width
8,00 cm
Shipping method
Parcel post with track & trace