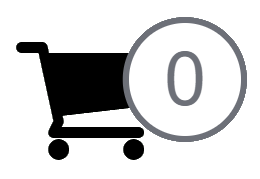 How does the shopping cart work?
Looking around in our web store, but not yet familiar with the order procedure? Here we explain step by step how the shopping cart works.
Add your products to the cart
Fill the shopping cart with the products you would like to order. Do this by clicking on the orange box with the text "ORDER HERE!". Do you want to order the same product multiple times? Then look at the stock. This can be specified in the "Quantity" box. If you have added a product to the shopping cart there is a choice to continue shopping "continue shopping" or you can choose to go to the shopping cart to complete the order "I want to order".
---
Step 1: Overview of your shopping cart
You have now arrived at "Shopping cart". Here you see an overview of the products you want to order.
Do not forget to choose the country for shipping, as a default this is set on "Shipping Netherlands". You can change the country by clicking on it.
The shipping costs depend on the shipping option you will choose. These can be selected on the next page when you choose "Continue with order". You may also choose "Continue shopping".
Do you have a discount code? Then you can enter the discount code on this page, if available.
---
Step 2: Login and continue
You have now arrived at the page where you can choose from two options.
"LOG IN AND CONTINUE" as an existing customer if you have already created an account.
(enter your email address and password)
You have the option to remember the data entered. This can be useful if you order more often in the future, you no longer have to enter the details again.
"CONTINUE AND ORDER WITHOUT HAVING TO CREATE AN ACCOUNT"
(you can also choose to create an account)
---
Step 3: Confirm your order
"Payment method"
Here you can make a wide choice from our payment options. The payment methods offered are free with no additional costs.
"Shipment"
Choose from our shipping options: DPD, DHL or PostNL. Also for pickup shops / collection points (If available for your country).
Your details - Invoice and delivery address
Enter your address details here. Make sure that your address and e-mail address is entered correctly.
Use "Comments" if you want to specify the address of the collection point yourself.
You can also specify a different delivery address.
Continue to "Confirm your order".
---
Step 4: Pay
Follow the guidelines on the relevant page.
Do you have any questions? Email: info@retro-en-design.nl or contact us on our Contact page. We will be glad to assist!