SOLD
Black\silver colored embossed tin with Dutch landscape for HEEREN-BAAI by DOUWE EGBERTS
SKU:

1407
Black\silver colored embossed tin with Dutch landscape for HEEREN-BAAI by DOUWE EGBERTS.
Tobacco tin by Douwe Egberts

Manufacturer: Douwe Egberts
Tobacco tin 'Echt Friesche Heeren-Baai' by the 'Douwe Egberts' brand. On the lid and the sides of the tin are representations of a Dutch/Frisian landscape with windmills and sailboats.
Description
Rectangular vintage tobacco tin with a hinged lid, hanging hinges with loose tabs. The decoration of this tin consists of a black / silver surface with a Frisian landscape with village, windmill and boat on the lid and the sides, all embossed. The brand name and logo are on the sides. Text: "Douwe Egberts echte Heerenbaai Verschaft u wolken van genot!"
View of Grouw (Fr).

Friesch landscape.

Lemsterpoort to close (Fr)
Condition
This tin is in an original vintage condition with traces of use and age-related traces of wear.
Size
Height: 8 cm.

Length: 19.5 cm.

Width: 12 cm.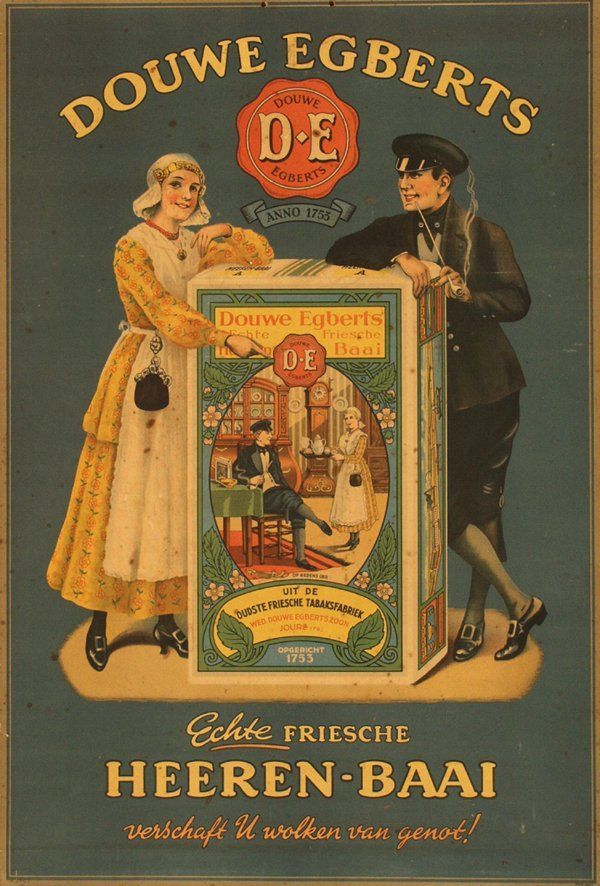 Douwe Egberts is a brand of coffee and a company which was owned by Mondelez International, produced by Jacobs Douwe Egberts. It was founded in Joure, Netherlands by Egbert Douwes in 1753 as The White Ox (De Witte Os) a general grocery shop, which later developed into a company dealing specifically in coffee, tea, and tobacco. By 1925 it had changed its name to Douwe Egberts (as in Douwe, the son of Egbert), and had introduced the red seal with initialism as its logo.
Douwe Egberts' origins are in Joure, where Egbert Douwe established a grocery shop called "De Witte Os" ("The White Ox") in 1753. The company transferred to his eldest son Douwe Egberts in 1780, from whom it adopted its current name.
The coffee brand Douwe Egberts, especially the more affordable red label, is the traditional coffee drink found in Dutch homes for many years. Collectible seals are printed on the back of the packs of coffee and tea. Consumers can clip these seals to change them for cups, coffeemakers, tea tins etc. This system began around 1925.

Some translations come from an automated system and may contain errors.
Country of origin
Holland
Kind of object
Tobacco tin
Theme
Tobacco
Category
Vintage tins
Color
Black/silver
Manufacturer
Douwe Egberts Joure
Brand
Heeren-baai
Material
Metal
Particularities
Hinged lid
Era
1930 - 1950
Quality
Vintage with traces of use and age-related traces of wear and tear
Height
8,00 cm
Lenght
19,50 cm
Width
12,00 cm
Shipping method
Parcel post with track & trace