SOLD
Vintage tin made by Victoria Biscuits Dordrecht with painting of Jan Steen, Dancing Couple
SKU:

BT-2605-19
---
Vintage tin made by Victoria Biscuits Dordrecht with painting of Jan Steen, Dancing Couple.
Manufacturer: Victoria Biscuit Company

Date of manufacture: 60s​
---
Description
Beautiful large vintage rectangular tin made by the Victoria Biscuit Company, Dordrecht-Holland. This tin is provided with a hinged lid with the famous painting of Jan Steen "Dancing couple / Les danseurs" on top.
The sides of the tin are decorated with various embossed ornaments. The bottom of the tin is marked with Victoria Biscuit Company. Dordrecht - Holland.
Condition
This tin is in a good vintage condition with traces of use and age-related traces of wear.
Size
Height: 6.5 cm.

Length: 29 cm.

Width: 22 cm.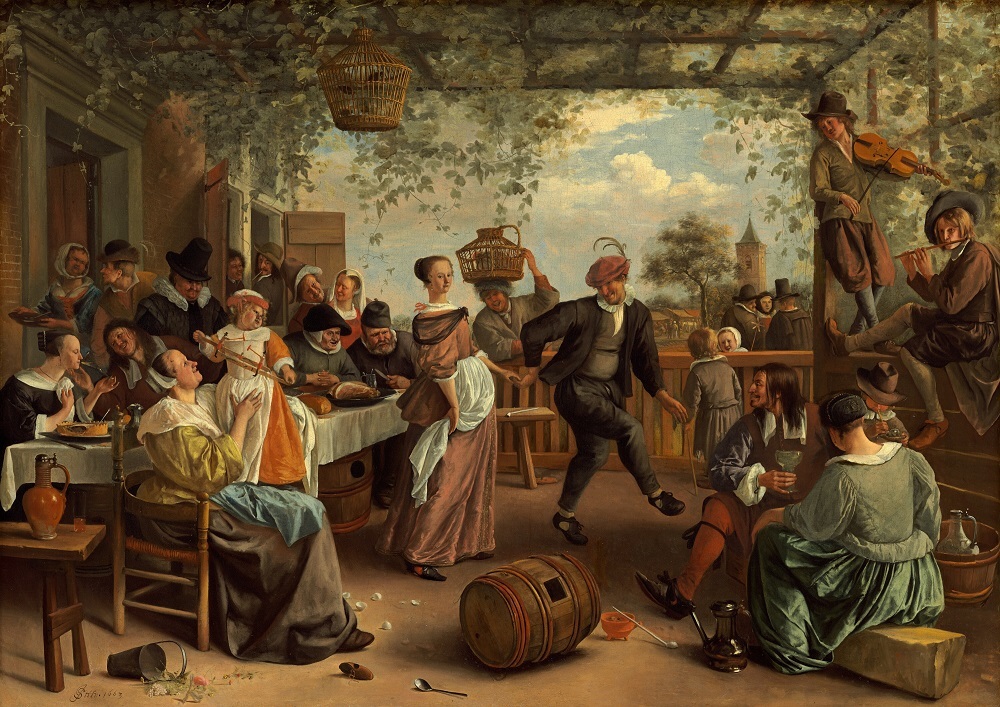 ---
Jan Steen
Jan Havickszoon Steen (c. 1626 – buried 3 February 1679) was a Dutch Golden Age painter, one of the leading genre painters of the 17th century. His works are known for their psychological insight, sense of humour and abundance of colour.
Steen was born in Leiden, a town in Southern Holland, where his well-to-do, Catholic family were brewers[2] who ran the tavern The Red Halbert for two generations. Steen's father even leased him a brewery of his own in Delft from the years 1654 until 1657. He was the eldest of eight or more children. Like his even more famous contemporary Rembrandt van Rijn, Jan Steen attended the Latin school and became a student in Leiden. He received his painterly education from Nicolaes Knupfer (1603–1660), a German painter of historical and figurative scenes in Utrecht. Influences of Knupfer can be found in Steen's use of composition and colour. Other sources of inspiration were Adriaen van Ostade and Isaac van Ostade, painters of rural scenes, who lived in Haarlem. Whether Steen actually studied with Ostade is not known.
Daily life was Jan Steen's main pictorial theme. Many of the genre scenes he portrayed, as in The Feast of Saint Nicholas, are lively to the point of chaos and lustfulness, even so much that "a Jan Steen household", meaning a messy scene, became a Dutch proverb (een huishouden van Jan Steen). Subtle hints in his paintings seem to suggest that Steen meant to warn the viewer rather than invite him to copy this behaviour. Many of Steen's paintings bear references to old Dutch proverbs or literature. He often used members of his family as models, and painted quite a few self-portraits in which he showed no tendency of vanity.
---
Victoria
Victoria was a biscuit and chocolate factory that originated in Belgium in 1896. The company gained fame mainly through the chocolate brand of the same name. At the height of its existence, the company owned factories in Koekelberg, in Dordrecht in the Netherlands and in Boulogne-Billancourt in France, with around 4,000 employees.
The biscuit production was moved to Victoria-Dordrecht, which in the meantime was completely in the hands of Gebeco. The building was split up and used by various companies to finally be transformed into habitation in 2002. The municipality of Koekelberg bought the central part with the intention of housing the Belgian Chocolate Village.
Gebeco came into the hands of Générale Biscuit in 1978, which itself was the result of the merger of the biscuit factories Céraliment and LU Brun.
Cookie production
In Dordrecht, south of the city, Victoria built a new modern factory that opened in 1980. In 1986, Générale Biscuit was taken over by BSN-Gervais-Danone, which changed its name to Groupe Danone in 1994. The group chose to fully promote the cookie brand LU. Until 1992, production was still taking place in Dordrecht under the Victoria brand name. In 2002 the biscuit factory eventually closed and the production was transferred to Herentals in Belgium. The building was sold to Continental Bakeries-Haust.

Some translations come from an automated system and may contain errors
Country of origin
The Netherlands - Holland
Kind of object
Cookie tin - biscuit tin
Theme
jan Steen - Dancing couple - Victoria - Dordrecht - biscuit tin
Category
Vintage tins
Color
Gold - brown - multi-colored
Manufacturer
Victoria Biscuit Dordrecht
Brand
Victoria
Material
Tin - metal
Particularities
Hinged lid - Jan Steen painting
Era
1960s
Quality
Good vintage condition
Height
6,50 cm
Lenght
29,00 cm
Width
22,00 cm
Shipping method
Parcel post with track & trace