More about vintage Tins
Tins are an important application regarding packages such as food. At first, cans had been covered with paper labels. Later on, a method was created to make it possible to print directly onto the metal. Today, some cans are must-have collectibles. Ranging from coffee, tea, and tobacco to drinks and snack tins. Most famous, are the Dutch Rusk tins and Cookie Jars. In the webshop of Retro & Design, you will find a large number of products from several time periods, which will bring you back to memory lane and might be a great addition to your interior or collection. Well-known Dutch cans are those of Verkade, De Ruijter, Bolletje, Tomado, and Brabantia.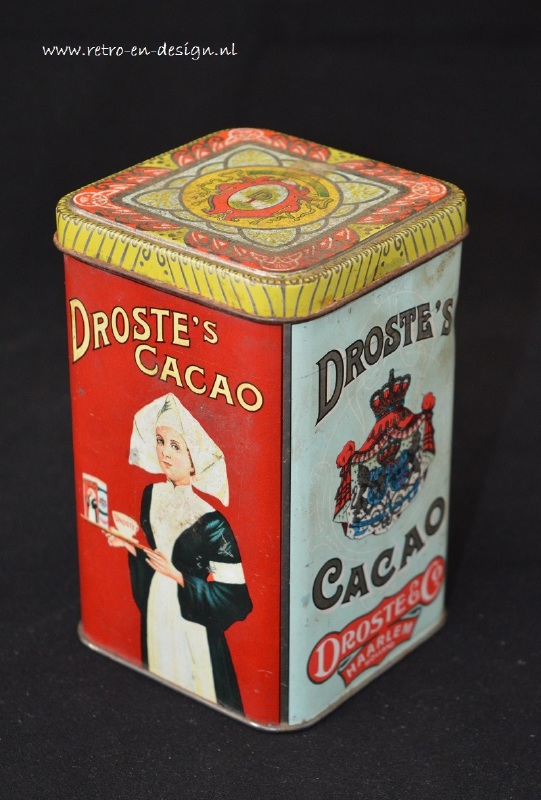 There are also some fine cans from brands such as, ARK, Van der Meulen and not to be forgotten 'Droste'. The name Droste hasn't only become known by the chocolate that is sold under that name, but also by the 'Droste effect'. The repetitive picture-within-a-picture, named after the picture on the packaging of Droste chocolates, which is printed since 1900. The tins of cacao powder display an image of a nurse carrying a serving tray with a cup of hot chocolate and a box with the same image. This picture repeats itself. Most likely the artist is the commercial artist John Musset, inspired by a pastel of the Swiss painter Jean Etienne Liotard 'La serveuse de chocolat', also known as 'La belle chocolatière'. This drawing, which refers to the beneficial effect of chocolate, is not allowed to be used for legal reasons in the United States.
Verkade is originally a Dutch company that produced Dutch rusk, chocolates, and biscuits. De Ruijter, 'Royal' de Ruijter is a subsidiary of the American Heinz company and specialized in the manufacture of typically Dutch spreads, such as sprinkles, fruit sprinkles, chocolate flakes, aniseed sprinkles and crushed aniseed sweets.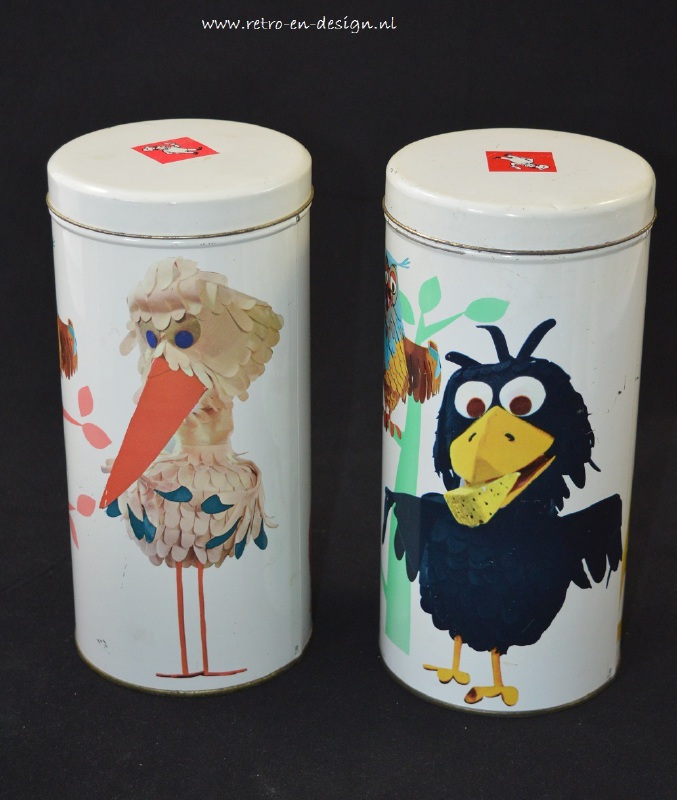 'Bolletje' is known from the Dutch rusk canisters with the bakery and biscuit tins of the 'Fabeltjeskrant'. Cartoonist Marten Toonder has designed the logo of Bolletje, the smiling baker holding a biscuit in his hand.
'Tomado' is the name of a former Dutch company in 1923 Dordrecht , which was founded by the brothers Van der Togt. Tomado stands for Van der Togt Mass Articles Dordrecht.
'Brabantia' is a company that manufactures metal and plastic household products. 'Brabantia' is the Latin word for Brabant. Well-known cans of Brabantia are those with the patters named 'Patrice', 'Diana', and 'Bayon'.
Escher and the Droste Effect